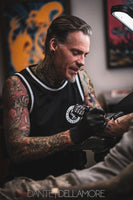 Durb Morrison
Durb Morrison is a veteran award winning tattoo artist and entrepreneur that has a strong neo traditional style combined with the rich color choices that make a great painterly traditional style sought after by many tattoo collectors worldwide. Durb can be found at RedTree Tattoo Gallery continuing a large tattoo session or working on organizing the Hell City Tattoo Festivals or working on his numerous True Tattoo Supply projects.
Durb Morrison – Tattoo Artist of over 32 years, starting tattooing in 1990 – Owner of RedTree Tattoo Gallery – Organizer of the Hell City Tattoo Fest in Columbus, Ohio as well as Phoenix, Arizona – which has become some of the tattoo industry's favorite conventions. Durb is also the Inventor and innovator of True Tubes and True Grips and is also a contributing writer for Tattoo Magazine where he interviews fellow tattoo artists from a veteran tattoo artist's aspect and insight. Considered an industry veteran now, Durb has always worked hard his entire career and strives to give back to tattooing and the industry by teaching his educational seminar "Longevity Of The Tattoo Artist", where he teaches healthy, preventative ways to prolong an artist's career by staying strong, limber and aware of their bodies throughout their career. 
Durb has consulted for some of today's top tattoo conventions and continues to travel the world for various tattoo conventions, seminars and guest spots. Durb has had artwork sell in numerous art galleries throughout his career. He's also the owner of Pint Size Paintings, which has released Volume #1 "Miniature Paintings By Big Artists". Durb is also a proud father to Sid Morrison and when he isn't working (which is rare) he finds time to paint, write, design, train jiujitsu, snowboard, play video games and hang out with family and friends. He enjoys other mediums of art outside of tattooing, including wood sculpture, metal sculpture, watercolor, oil painting, acrylic painting and graphic design.

Read Entire Bio HERE!
Durb's Personal Instagram
Check out these great videos!